Careerleaf Features
Careerleaf's configurable solutions allow you to tailor your board to your real business needs. Whether you're looking for a companion site to grow your revenue, a community portal for your association, or a job sales platform, our tools are easy, intuitive and flexible. Manage everything in the board, or integrate it with your existing systems.
Ecommerce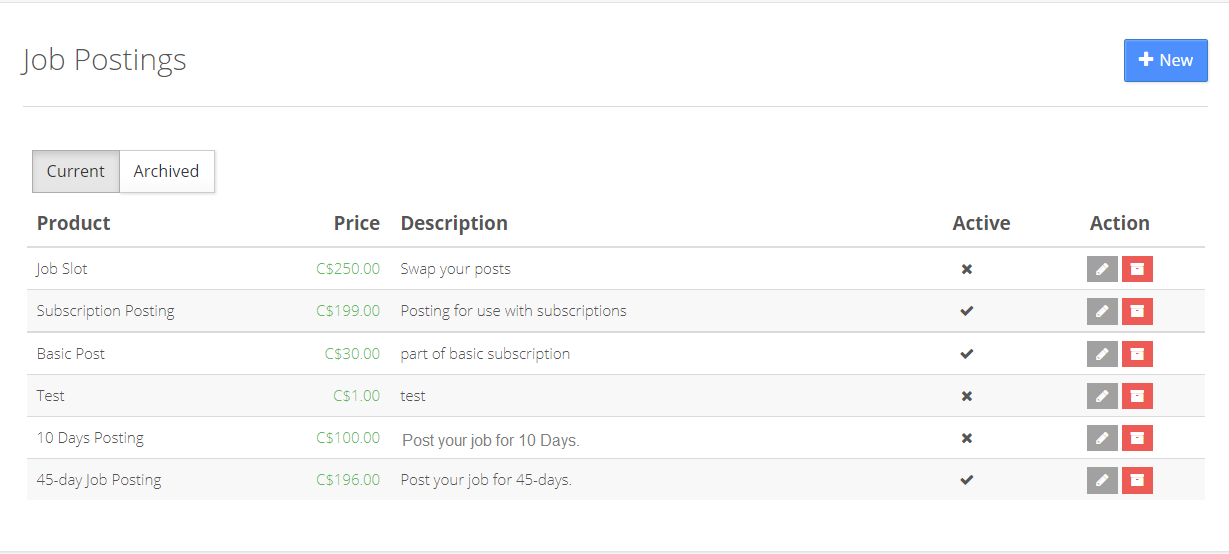 ✓ Sell jobs, advertising, services, packages and subscriptions.
✓ Create promotions and coupons.
✓ Approvals dashboard for jobs, invoices and employers.
✓ Process payments using Stripe, Authorize.net and PayPal integrations.
Invoicing

✓ Package and track sales for your largest customers with invoices.
✓ Collect payment within the Careerleaf owner portal.
✓ Use our sophisticated order and invoice management system including adjustments, voids and refunds.
✓ Create custom exports for your accounting system.
Data
Every Careerleaf board is a separate instance so there is no chance of data bleed between customer sites.
Careerleaf doesn't use or sell your data. You own it and you control it.
We take data integrity seriously. Our solution is compliant with GDPR, CASTL and CANSPAM.
All Careerleaf boards have HTTPS with options for ReCaptcha 3, bot throttling and more.
Established job boards moving to Careerleaf get a custom migration plan.
Analytics
Track all the activity on your board including job ad and brand engagement applications, traffic and more.
Customize reports to understand the activity of your users and identify top customers.
Integrate Google Analytics and Google Tag Manager for advanced SEO and behavioural reporting.
Branding
✓ Control colours, logos, menus and copy.
✓ Enhance your brand with configurable homepage templates, custom pages and widgets.
✓ Expand your offerings with employer page templates and branding options.
✓ Increase your reach with off-site Jobs Widget implementations on partner websites.
Marketing Suite
✓ Careerleaf is a mobile responsive, SEO friendly product. Deploy social widgets, optimize pages and posts.
✓ Manage all of your email marketing subscriptions from right inside Careerleaf. Employers and job seekers can opt in and out of any newsletter you make available to them.
✓ Use our WordPress integration to manage all your content marketing in one place.
✓ Deploy advertising integrations, header/body codes, calendar and form integrations.
Integrations
Pre-built marketing, CRM, and analytics integrations.
Salesforce, AgileCRM, Google Analytics, Google Tag Manager.
Hiring tools like Video Bio, Screening Canada
Learning Management Systems like SkyPrep
Careerleaf Reach
✓ Boost your content with Careerleaf Reach job and board syndication.
✓ Syndicate your job board content to 150 other job sites.
✓ Upsell by offering per job syndication to your customers.
Backfill and Feeds
✓ Fulfill custom job feeds from large employers with Careerleaf's scraping services.
✓ Expand your board's job inventory with backfill feeds from any publisher.
✓ Adzuna, Talent.com, Zip Recruiter, Jobg8, Talroo and more.
✓ Available as published daily feeds or real time API calls from search.
Employer and Partner Tools
Careerleaf's permission based employer and partner tools allow board owners to create approvals, white and blacklists, and custom employer pages.
Careerleaf's employer and partner tools are designed to allow you to create custom service packages to meet your client needs. Expand your offerings with background checks (Canada only) and video interview and screening integrations.
Candidate Tools
Careerleaf job boards are designed to grow your business. That's why candidate experience is at the centre of everything we build, and every update we make. Optimize your job board content to attract candidates using in-built SEO tools, then retain them with great job search tools.
Today's candidates have complex skills and work history, and they're used to wearing multiple hats. Careerleaf job search tools allow them to manage multiple resumes, cover letters and portfolio documents, and to easily attach the right documents to the right applications.