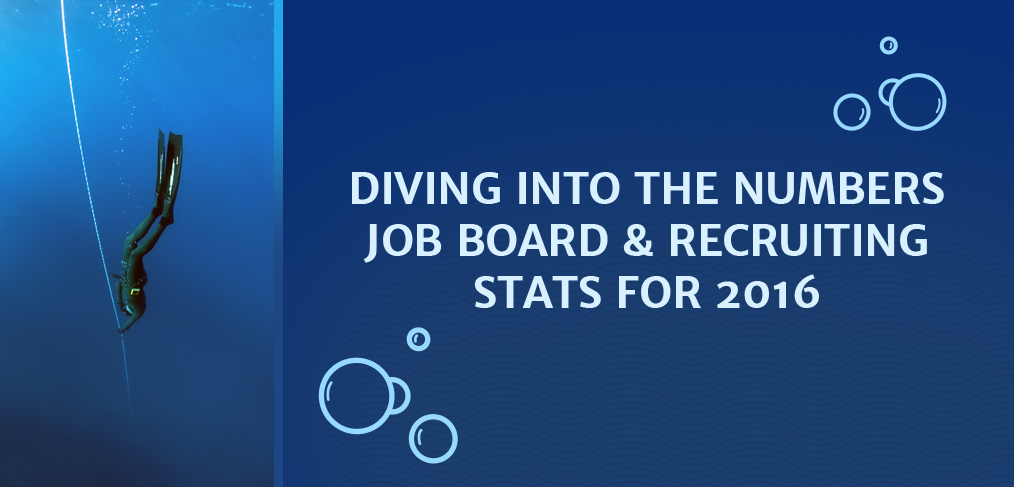 Diving into the Numbers: Job Board & Recruiting Stats for 2016
TA Tech and Job Board Doctor released the results of their 2016 Global Job Board Trends Survey recently, so this week we'll be taking a gander at those job board stats, as well as a look at some other research released this year, and explore what it those numbers might mean for your job board business.
Job Board Doctor & TA Tech 2016 Global Job Board Trends Survey
Released May 2016 – Surveyed 211 job boards from across the globe, nearly half which were US-based.
In it for the Long Haul
Nearly half of respondents have been in business for 11+ years, and over 13% have been in business just 1-2 years. It's easy to start a job board, but it's harder to keep it going for a decade. The fact that so many have been in business for over a decade demonstrates there is success to be found, but that it's more difficult to achieve than many entrepreneurs initially assume.
(Sidenote: at Careerleaf we've got some projects brewing to help support and guide job boards through the murky waters of those first couple years. Stay tuned!)
Lots of Jobs on Lots of Job Boards
47% of respondents reported a monthly count of 500 job posts on their board. That's a lot of jobs! It seems job boards continue to provide a return on investment for recruiters and employers through job advertising and employer branding.
You Gotta Track That Data
One worrying statistic to come out the survey is that 32% of respondents weren't tracking how many applications paid postings were receiving! It's a good stat to measure and track, not only to measure your own success, but to market your services to your customers. (Not sure what stats to track? Check out our Quick Crash Course on Job Board Analytics.)
2016 Global Recruiting Survey from Social Talent/Alexander Mann Solutions
Released March 2016 – Surveyed 1,000 recruiting professionals across multiple global regions
Social Media is Amazing
37% of respondents said Social Media was a primary tool for attracting candidates, with LinkedIn and Twitter being used the most.
I've been told that Twitter is the second-most popular search engine used online, and in 2010 there were 19 billion searches performed each month on the social media platform. More recently, Google and Twitter have partnered up to better facilitate Twitter searching.)
Job boards using social media as distribution channels for their jobs have an advantage in marketing to recruiters and employers, as well as reaching candidates and maintaining brand visibility.
It's Called Job Advertising for a Reason
42% of recruiters surveyed revealed that they didn't put much effort into writing and optimizing job post content. Social Talent & Alexander Mann Solutions suggest that writing job descriptions to be candidate-focused and with an eye to marketing and attracting candidates, as well as optimizing content for search engines, will deliver more qualified and interested candidates.
As an added service, offering job post writing or optimization services could go a long way to helping your job board customers with successful hiring.
Yes, Recruiters Use Job Boards
23% of the recruiters surveyed paid to post on job boards, but the above-mentioned optimization of job descriptions, as well as using videos and other rich media, can go a long way to improving this stat.
Depending on your board's focus, integrating with a video interviewing service might be an option to explore. Industries with high volume recruiting or high turnover rates are great markets for video interviewing, as well as remote workers and international recruiters. Enhancing employer branding on job boards with embedded videos, and allowing candidates to share video resumes or projects can also increase your value in the eyes of recruiters and job seekers.
2016 Jobvite Job Seeker Nation Study
Released March 2016 – 2,305 adults in the workforce over the age of 18 were surveyed, with 1,386 of them residing in the U.S.
Dental Work > Work Perks
Less than half of those surveyed receive healthcare benefits, with 18-29 year olds more likely to be receiving free snacks or meals than medical or dental benefits. Other types of benefits and perks, in descending order of commonality, include flexible work hours, the option to work from home, professional development opportunities, gym memberships, volunteer opportunities, commute reimbursement, unlimited paid time off policies, or pets in the office.
Bracing Themselves for the Robopocalypse
21% of job seekers are very concerned about automation and robots taking over their jobs, 18% somewhat concerned, and 17% only a little bit concerned, with 39% not concerned at all.
There are lots of theories on where automation will take the job market and the economy. Some say creative fields are the only dependable industries, others are eyeing universal income to even the playing field, and some way we're all doomed. Doomed! Either way, I like saying "Robopocalypse".
Gender-based Differences
Men are more likely to inflate their skills on Facebook and Twitter than women, and are more likely to be optimistic about their job search. Men are also more likely to have supplemented their income by participating in the so-called "gig economy", with 56% of men considering a "gig" their full-time job, whereas 36% of women view their "gig" as a part-time job in addition to a second job.