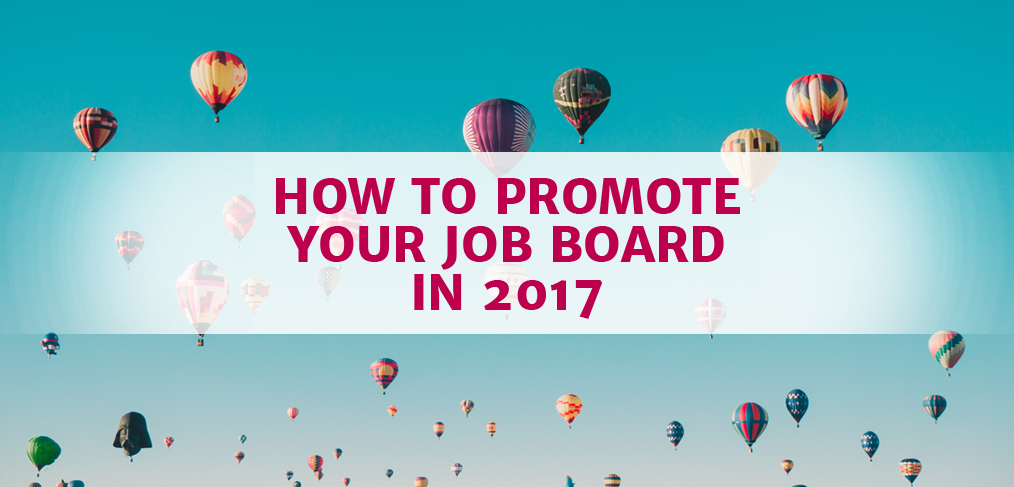 How to Promote Your Job Board in 2017
Editor's Note: This post was originally published on June 13th, 2016 but has remained popular ever since. We're posting it again with a few updates – let us know what's worked for you in promoting your job board!
Start with Branding, and Know Your Value
I routinely come across a lot of recruiting, staffing, and software websites, and I've developed a very particular pet peeve as a result. I hate it when I visit a website and can't ascertain in ten seconds or less what they actually do.
Reading their Twitter profile bio (if they have one) is often my best bet to get a quick summary or definition of their business, because it's concise and to the point. 140 characters or less, baby!
It's tough to take everything you do and boil it down to a tagline, but it's so worth it. A clear message to your target market and audience helps focus your goals, making them easier to achieve. It'll be easier to build upon that success and pitch to other markets as you grow, so don't worry about excluding future verticals. Start with how you're going to make money and serve your base of employers and candidates now.
Before you start your marketing campaigns, lay out the welcome mat. Put yourself in a stranger's shoes–would this person be able to grasp all the amazing things your job board can do for them? In ten seconds or less? 140 characters or less?
It's hard to pack the entirety of your value into such small packages, but if you lead with brevity and give them a reason to go deeper, you make it easier to stick around. A recognizable brand (name, logo, colours, taglines!) and a clear offering go a long way. Out of that, you'll start to define keywords and more ways to sell.
All that said, don't let your branding trip you up! If the thing standing in between pushing forward with a new marketing campaign, a technology update, or launching something new, remember that your branding can evolve over time. Better to get something that works out there now rather than fussing over finding the perfect text or visuals to complement your brand. You can always default to your own name as your business brand and later come up with a catchy company name. Using your own name and leveraging your personal branding can also help build trust with your customers, because they see you as a real person they're doing business with, and not just a faceless website.
Get Social to Promote Your Job Board
Social media platforms may rise and fall over the years (Snapchat has overtaken Twitter in its number of users!), but its value is not ephemeral.
Pick 3 or 4 platforms that your target market uses, and focus on using those channels. Specialize in retail, food, fashion, or another industry big on visual presentation? Instagram and Pinterest may serve you well. High finance? LinkedIn is appropriate. Whereas writers and journalists tend to flock to Twitter and Medium. Recruiting Gen Z? Bite the bullet and figure out how Snapchat works. Do a bit of research on which platforms the target market of your job board's niche tends to use the most, and experiment to see what sticks.
(It's also not a bad idea to create accounts on more platforms, even if you don't intend on using or promoting them. Think of it as planting a flag in the ground. You have a brand and you're ready to make use of it when you need it.)
Social media helps you reach your audiences where they live, work, and play. And with tools like Hootsuite and Buffer, you can pre-schedule your social media content in batches, to save time and plan your output more strategically. Social media accounts can also serve as distribution channels for your site's jobs, and it's usually pretty easy and cheap (or free!) to set up.
Participating in industry, job search, or recruiting chats or groups can be another way to connect with your audience, develop your brand, and drive traffic to your site. Don't be afraid to ask questions or message people directly, but remember to be human, helpful, and respectful. (Nobody likes a spambot.)
If social media isn't something that comes naturally to you, don't panic. There are a lot of resources out there to help you ease into it (including ours, linked below). Despite all the hype around social media, big tech, and whatever those millennial/Gen Z kids are up to these days, I promise you that you and/or your team are totally capable of social media to your job board's advantage.
Have a Backlinks-Building Plan
Start finding opportunities for other great websites to link back to your site.
When it comes to SEO strategies, backlinks are an oldie but a goodie. The trick is not to get as many links pointing back to your site from as many places as possible. (Don't do that. It's spammy and it could actually hurt your SEO and reputation.) Quality over quantity.
Look for business listings, directories, or popular industry blogs and news sites where you can create a profile for your business. They will stay fairly static, but their websites are resources for your customers and candidates and will help them find you.
Leaving comments (under a real human name!) on news or blog posts can also be a good strategy. You can usually link your name to your website, or link to it in your comment. But again, you want to add value to your comments, not spam and annoy people.
The next step to take is building relationships with respected people in your industry, or "influencers" with relevant followers. If they're familiar with your business and your brand, they may voluntarily link to your site or talk you up on social media. Collaborating on some promotion that's mutually beneficial can also serve to develop valuable backlinks.
More Than Just Jobs: Content, Content, Content 
Job posts don't last forever. The expire. That can be a problem when you're trying to build SEO for your website as a whole and not just individual jobs. Content beyond job posts and employer branding is crucial to your SEO.
So what goes into this "content"? It's all the detail about what your business does for people–help them find great jobs and build careers, and help them hire great candidates and grow businesses.
Content targeted toward your job seekers might include your own tips and advice on searching and landing jobs, profiles on different types of jobs, interviews with industry professionals about their careers or hiring, or even just regular spotlights on featured jobs and employers. Recruiters and hiring managers might like more information on how to make the best use of your board, stories of successful hiring strategies, profiles on interesting recruiting campaigns or industry trends.
But most importantly, expand on why your job board, run by you and your team, is the best choice for recruiters and job seekers. What is it you have that no one else does? You're in this business for a reason. You have the expertise, experience, and connections that matter and can set you and your board apart from the competition. Talk about that, and don't be shy about it.
These are just a few ways to get you started, but they can serve as building blocks to do further promotion. Check out the links below for more ideas and let us know what's working for your job board!
Image credit:ian dooley