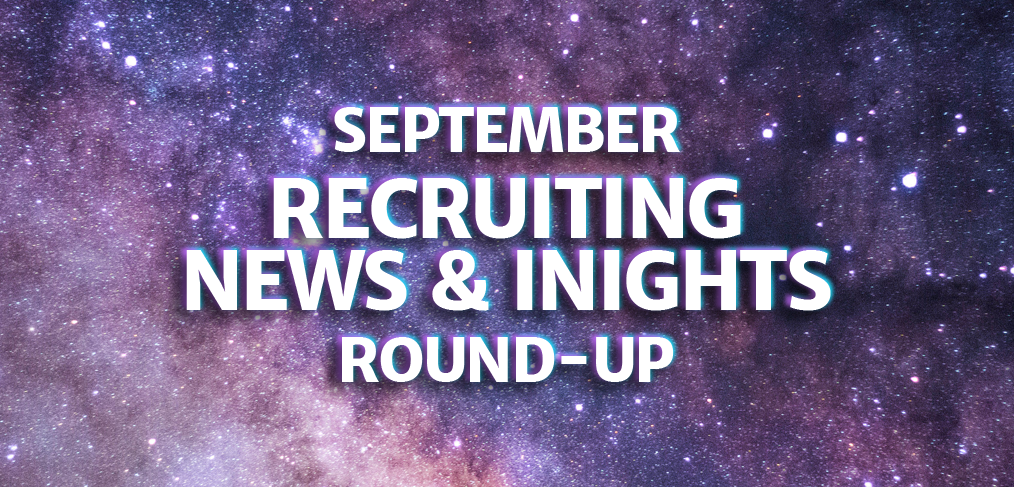 September Recruiting News & Insights Round-Up
There are lots of things happening in the recruiting industry right now, so check out a few gems of relevance to job boards.
CareerBuilder for Sale
The big news last week was that CareerBuilder, another older but big-name jobs aggregator would soon have a "For Sale" sign pitched on its front lawn.
In contrast to Monster and SimplyHired (who have been acquired by Randstad and Indeed's parent company, respectively), CareerBuilder has been re-shaping itself into an end-to-end HR solution.
Jeff Dickey-Chasins of JobBoardDoctor.com points out that this likely isn't a reflection on job boards as a whole:
What does this mean for the rest of the job board and online recruiting industry? Not a lot. Like the LinkedIn and Monster purchases, it is less reflective of industry trends and more reflective of big company priorities.
I tend to agree. Job boards come in all shapes and sizes, and they are a part of and impacted by the recruiting industry at large. However, niche and regional job boards are a different animal than those of companies like Monster, SimplyHired, and CareerBuilder. Smaller, focused job boards with good sales and marketing habits, a defined market and a clear value proposition are still finding success.
New HR Tech Hurts Hiring?
Over on PBS Newshour's blog, Nick Corcodilos tackles the question of whether some technologies help or hinder the recruiting process in his Ask the HeadHunter column.
The question stems from reports that while job openings are abundant, not every job posting results in someone getting hired. As a way to explain this phenomenon, some point to the gap between the skills employers need and the skills that job candidates actually possess, and others speculate employer behaviour around hiring may also be a factor.
But Corcodilos explores the idea that rigid forms of technology may share some of the blame:
The HR technology seems to […] Result in rejection of good candidates because the keyword model is woefully inadequate.
For job boards, I think this is a reminder that an indicator of success isn't just how many job postings you sell, but how many result in hires.
It's a good practise to periodically follow up with your customers to learn about their experience on your board, or at the very least check up on how your posts perform in terms of views and applications. (That information can help guide your questions as you reach out to employers and recruiters, and inform your marketing.)
Complex systems for matching and filtering candidates can save time, but you also don't want to risk a qualified candidate getting booted out of your system because of formatting or the wrong keyword density.
Employer Reviews on Niche Job Boards?
Over on RecruitingTools.com, Joel Cheesman writes about the influence of Glassdoor, a website that gained popularity as a place to submit anonymous reviews of employers, and more recently pivoted into a job board and employer branding platform.
He predicts that more job boards will adopt user-generated content in the form of employer reviews:
Likewise, I suspect we'll start seeing "Glassdoor for New York City," "Glassdoor for Baby Boomers," and "Glassdoor for African Americans" to name an endless few. Locality is an important part of this game too, as Glassdoor knows all too well, gobbling up the "Glassdoor for Brazil" in a site called Happy Mondays.
Including employer reviews on job boards is certainly not a new idea, but I think the way Cheesman frames it as "Glassdoor for ______" is a slightly different angle that might inspire new ways for niche job boards to differentiate themselves.
That being said, review sites aren't always fair-and-square or without controversy. Just ask Yelp. Still, employer reviews are an interesting way to generate content, engage candidates, and drive traffic.
What do you think?