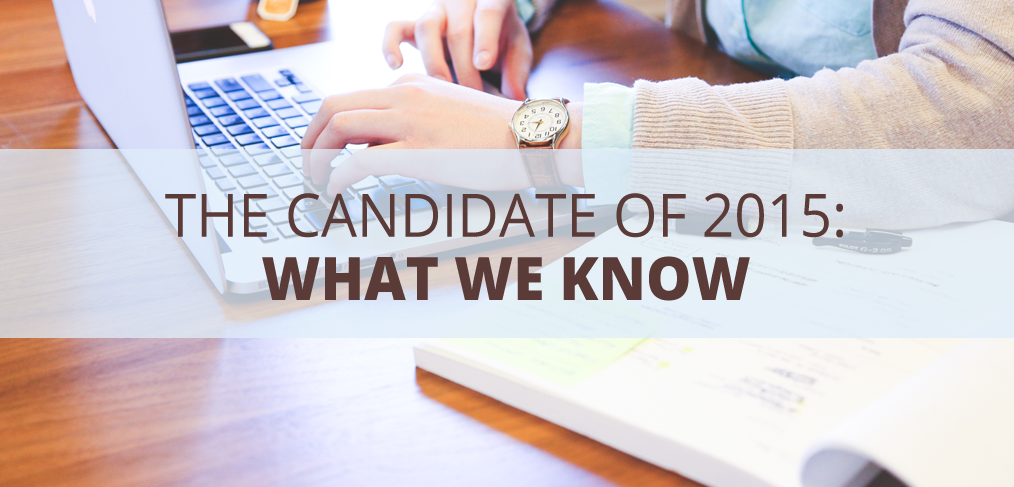 The Candidate of 2015: What We Know
It never hurts to get back to basics with candidates. What they want? How do they behave? And how do employers find and hire the best?
A number of companies have done large surveys of employers and job seekers to research and quantify the answers to those questions. Below I've collected some of the most important and interesting numbers from several notable surveys about hiring and job seeking in the year 2015.
The Mobile Candidate
47% of job seekers search on mobile in bed, 38% while commuting, 30% on the job, and 18% in the bathroom1
38% of candidates learn about opportunities on mobile devices, with a 90% increase from 2013 to 20142
28% of candidates apply for positions through mobile devices, a 75% increase from 2013 to 20142
The Passive Candidate
61% of employed candidates were open to new opportunities3
45% of workers would accept a new job offer, even if happy in their current position1
The global average of companies recruiting passive candidates is 61% (Passive candidates being defined in this survey as satisfied in their jobs, not wanting to move, openly talking to a recruiter, and reaching out to personal networks)2
In the Mind of the Job Seeker
When job seekers were asked what the most important factor was for them when applying for a job online, 49% of job seekers most valued the ability to see job listings without registration, 28% rated the amount of time to complete an application as the most important, and 21% most value the ability to apply for jobs via mobile1
Overall number of different resources job seekers used was 17.7. The most common resources included company websites, personal networking, job boards, and LinkedIn3
85% of job seekers say the most likely thing to impact their decision to apply is whether or not the job duties/responsibilities are clearly defined3
25% of job seekers say that having to work through an applicant tracking system makes their job search experience harder3
57% say the application process is too automated, with no human contact3
28% said a bad job posting was the most likely thing to give them a negative perception of the employer3
72% of Millennials most frequently look for jobs on job boards4
Where the Recruiters Are
Competition and Compensation are the biggest obstacles for employers in hiring talent2
Recruiting/sourcing highly skilled talent (46%) and quality of hires (34%) are the top recruiting priorities for companies—even higher priority for smaller businesses than for large2
74% of companies surveyed cited Internet Job Boards as their top source for hiring quality professionals, up 15% over the last four years2
Countries including India, the UK, and the Nordics cite Internet Job Boards as their top source for quantity of hires, over social professional networks and staffing firms2
Sources:
1. Job Seeker Nation Study 2015: Inside the Mind of the Modern Job Seeker
2. 2015 Global Recruiting Trends: LinkedIn's 4th Annual Report
3. CareerBuilder 2015 Candidate Behaviour Report – US Job Seeker