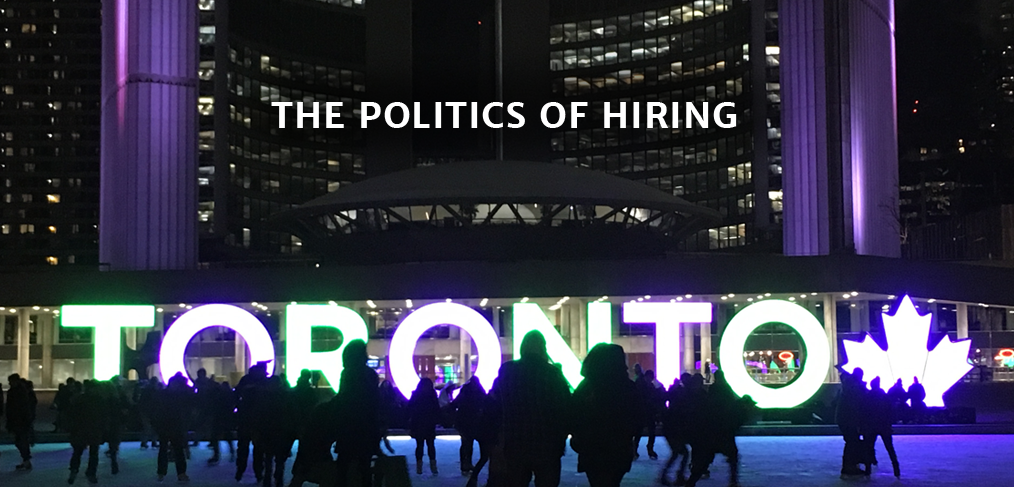 The Politics of Hiring
Some people don't like talking about politics. (I do, but I also like pineapple on pizza, but I'm told that is also controversial.)
Right now it's hard to avoid news headlines proclaiming all sorts of things about jobs, trade, and the economy. The new U.S. president has been the cause of much of it, and the recruiting and technology industries are particularly impacted by his recent executive order and how it affects immigrants, refugees, and foreign workers.
Last Monday I was heartened to see Betakit – a website dedicated to startups and technology in Canada – had published a page titled, An Open Letter From the Canadian Tech Community: Diversity is Our Strength.
The letter is signed by Canadians working in tech and illustrates some of the reasons why the president's policy affects that industry:
Many Canadian tech entrepreneurs are immigrants, are the children of immigrants, employ and have been employed by immigrants.

As connected economies, decisions by the United States can directly impact every business north of the border. The recently signed Executive Order to block entry of citizens from seven countries has already impacted several in our community. As a community, we are all affected.
In a similar vein, Vanity Fair's Maya Kosoff talks about how some Silicon Valley leaders are reacting:

Tech leaders responded with alarm to the order, which indefinitely blocked Syrian refugees and temporarily banned people from seven majority-Muslim countries from entering the United States. At least 187 Google employees, among many others, were reportedly affected by the ban, which drove dozens of tech C.E.O.s to the digital barricades. Google co-founder Sergey Brin, himself a former political refugee, joined hundreds of others at San Francisco International Airport to protest.
The Wall Street Journal reports that 51% of U.S.-based billion-dollar startups were founded by immigrants – more evidence that from an economic perspective, immigration helps grow business and create jobs in the US, just as it does here in Canada.
Jessica Miller-Merrell at Workology breaks down how the executive order directly affects hiring, employment, & HR in the U.S., including what working visas employers and workers can use:
The executive order not only raises a lot of employment concerns but it also hints at a second executive order specifically targeting the L and H-1B visas. Some websites are suggesting that the second executive order will be released later this week. Even without the second executive order, hiring and HR is still impacted.
Some employers are wrestling with how raising the issue may affect their employees and talent strategy, as Kris Dunn at HR Capitalist writes:
Some companies, especially those in specific geographical locations (what up, Bay Area) have an easy choice.  They're on record as being opposed to the policies – the policies threaten much of their talent strategy and just as importantly, their employee base expects them to take a stand vs Trump.  For everyone else, it's not so simple. […] Taking stands equal blowback from customers (almost half Trump voters, half voted DNC) and that logic follows to most of our employee bases.
Starbucks, on the other hand, is one of those companies taking a stand. Megan Purdy at Workology explains how Starbucks is using this as an opportunity to help define its employer brand by pledging to hire 10,000 refugees:
While many organizations are scrambling to figure out how to respond to employee questions about the executive orders, or to change their strategic and compliance plans, Starbucks has moved quickly to reaffirm its support for all of its employees and its commitment to being an equitable international employer and corporate citizen. In doing so, it has smartly reaffirmed its employer brand as a company with a conscience.
For job boards, HR professionals, and recruiters, it would be prudent to stay on top of how these new rules may affect who and how American employers hire, as well as how your candidate community may be affected. It's worth asking your community of employers, hiring managers, and talent if or how they are being affected, and whether you can help them navigate these challenges with information, support, or services.
Before I close out this post, I think it's important to note that although we speak about the financial and economic impacts, most people have very personal reactions to it.
Recruiting and employment are all about opportunity – changing people's lives through work, income, career development, and building businesses and organizations through successful hires. Most Canadians and Americans are either immigrants or descended from immigrants, and personally, I hate the idea of shutting the door in the faces of people seeking the same safety and opportunity that we who live here take for granted.