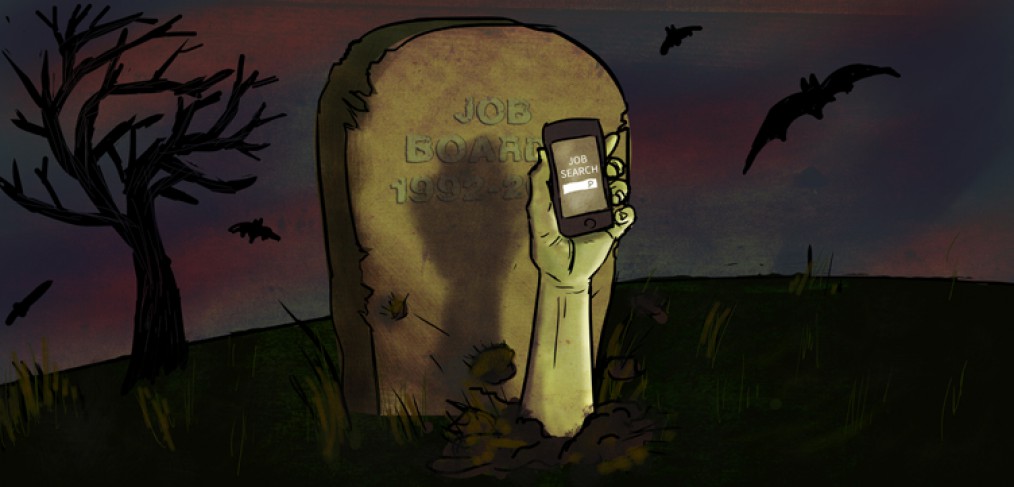 Zombiepocalypse: Job Boards Aren't Dead, They're Getting Better
Editor's Note: This post was originally published on October 31st, 2014 and in addition to being appropriately Halloween-themed, it's still relevant today! We're posting it again with a few updates – let us know your experiences with "job boards are dead" rhetoric!
---
There's an ongoing narrative that crops up in the recruiting space that goes something like this: Job Boards are dying! Social media recruiting, that's the way of the future! Indeed is taking over the world, no room for others! LinkedIn is everything! Job boards are dead, dead, DEAD! (Does anyone else get that scene from Monty Python's Holy Grail running through their head when they hear this? "Bring out yer dead! Bring out yer dead!")
Everyone hears about job openings that don't get advertised. These jobs are therefore filled using referrals, personal networks, headhunting, proactive recruiting, etc, etc. There's also a lot of good evidence behind the value in employer branding and marketing to proactively attract candidates, so of course using things like social media becomes an important part of an overall recruiting strategy.
LinkedIn is a great networking tool. It was never really built to be a job board–and yet selling job ads is probably its most important source of revenue now. Indeed went from aggregator to job board and now sells recruiting services (like many a hybrid job board). Glassdoor.com, once a site that served as a platform for researching and reviewing employers, now offers paid profile services for companies as well as selling job ads.
So what's happening here?
It's not that job boards are dying – it's more like everybody is dying to be in the job board business. The difference is that job boards have evolved, and can now be mobile and social and be open to adapting to new needs, to the point where we may not even think of them as "job boards" anymore.
But really, what is a job board other than a place where employment information is advertised and job seekers return for that content? At its most basic, a job board is a place where job seekers connect with information about jobs and careers. That's happening on LinkedIn, on Indeed, on Glassdoor, on Monster, CareerBuilder, Workopolis, and every niche and regional job board you can name.
At Careerleaf, we tend to see the power of niche and regional job boards — those that have found a specialty — and we believe that with the right tools at their disposal, they can have that same evolved experience of the new kind of job board, the kind that is prepared to live in the social and mobile age and continue to evolve.
Job boards aren't dying — everybody else is becoming a job board. It's changing what a job board looks like these days, and expanding what we think they can be.
"I'm not dead. I'm getting better!" Welcome to the zombiepocalypse. It's gonna be great!